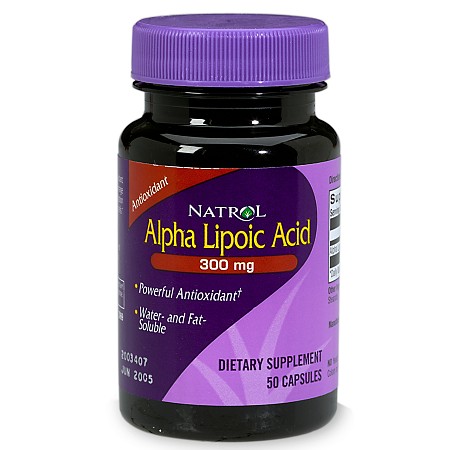 The following information is NOT meant to be used to treat yourself or patients
Generic name
Brand name
Many manufacturers make alpha lipoic acid.

Natrol

is one brand that is good and easily accessible to patients (sold at Walgreens):  Find it

HERE

.
Class
MOA
Used by mitochondrial enzymes in cells to convert glucose into energy
After uptake into cells, it is reduced to dihydrolipoic acid (DHLA)
Thought to help with

diabetic peripheral neuropathy
Advantages
Inexpensive:  $7-10 for fifty 300-mg capsules at Walgreens

Safe

Quick

:  In studies, patients noticed a benefit over placebo with their burning, paresthesias, and numbness symptoms by

day 5

.
Disadvantages
As with all supplements, the quality is not controlled by the FDA and therefore

differs considerably between manufacturers

. 
Dosing
600-mg daily:  Usually given as

300-mg BID
Adverse Effects
Headaches, nausea, vomiting

Dose dependent:  Seen more in patients taking 1200-mg a day
Research
Here is a good

review

article on Alpha Lipoic Acid for diabetic peripheral neuropathy: