By Chris Faubel, MD —
Patients undergoing transforaminal epidural steroid injections show greater functional improvement if they have positive EMG findings of lumbar radiculopathy.
J Pain. 2008 Jan;9(1):64-70.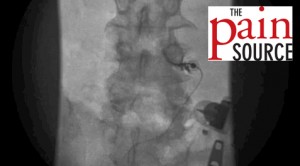 The use of electromyography to predict functional outcome following transforaminal epidural spinal injections for lumbar radiculopathy.
Fish DE, Shirazi EP, Pham Q.
Department of Orthopedics, UCLA School of Medicine, Los Angeles, California 90404
Get the abstract here
Summary of Study
Purpose:

to determine if objective EMG findings can predict functional benefit after a lumbar transforaminal epidural steroid injection

Retrospective

chart review

Study Participants

Patients who presented to the Veterans Affairs (VA) hospital in Los Angeles between July 1, 2000, and June 30, 2002.
Pain level and functional status (using the Oswestry Disability Index – ODI) was filled out before the injection, and at a follow-up visit (and these were kept electronically).

Inclusion criteria

EMG completion before the procedure with a diagnosis of an L5 or S1 radiculopathy
Transforaminal epidural steroid injection (TF-ESI) performed at L4 and/or L5
Symptomatic pain in only one extremity
Completion of self-assessment surveys before the interventional spine procedure and at follow-up

To be considered "EMG-positive"

Evidence of denervation or reinnervation on needle EMG

Two muscles

innervated by 2 nerves from the

same spinal cord level

needed to be positive .

Baseline characteristics

Number of patients = 

39

Age = 60 (mean; ± 12.5 years)

Methods

The level of injection was based on the EMG findings, physical examination, magnetic resonance imaging (MRI), and clinical symptoms.
No patient received more than two levels of injections.

Injectate used

40-mg triamcinolone acetonide (Kenalog) + an unknown amount of 1% lidocaine
If two levels were injected, the injectate was divided equally between the two levels.

Results

The

pre-injection ODI

(Oswestry Disability Index) scores were

essentially equal

.
The

pre-injection pain scores

on the VAS were

similar

as well.

Two groups

EMG-positive patients

18 patients

Post-injection ODI improvement

=

7.11

EMG-negative/normal patients

21 patients

Post-injection ODI improvement

=

3.2

The

post-injection VAS scores

were improved after the injection, but the difference between the  groups was

not statistically different

.

Limitations of the study

No evaluation of

medications

taken or changed during the pre- and post-injection ODI
No comparison of

prior surgical interventions

to the lumbar spine
No standardized time between symptom onset and EMG testing
Not a

heterogenous

group of patients
The injectionists were not blinded to the EMG results
Conclusion

Patients undergoing transforaminal epidural steroid injections show greater

functional

improvement if they have

positive EMG

findings of lumbar radiculopathy.

Analog pain scores do not help

in the decision-making of treatment options for patients with lumbar radiculopathy.
This study shows the diagnostic value of needle EMG in the prognostic success of patients prior to lumbar TF-ESIs, while simple pain scores are of little value.
Future Research
Evaluate the psychological and medication factors that may determine a patient's relief from lumbar epidural steroid injections.
Also look at

interlaminar vs transforaminal

ESI relief in EMG-positive vs EMG-negative patients.