Patient Position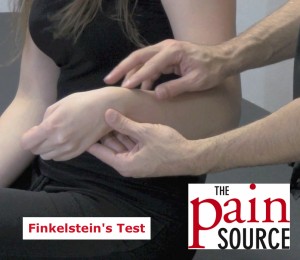 Seated or standing
Elbow flexed to 90° and the forearm in the neutral position
Procedure Steps
Instruct the patient to make a fist with their

thumb covered-up inside

.
Examiner gently moves the hand/wrist into

ulnar deviation

.
Positive Sign / Significance
Sharp pain at the distal radial wrist =

De Quervain's tenosynovitis

Note:  May be uncomfortable/painful on the asymptomatic side too.  Compare the pain on the suspected side to the asymptomatic side.  If equally painful, Finkelstein's test is NOT considered positive.

Comments
De Quervain's tenosynovitis is an inflammation of the tendon sheath around the

abductor pollicis longus

(APL) and

extensor pollicis brevis

(EPB) tendons.
For excellent information on the injection technique for De Quervain's tenosynovitis, go

HERE

.
De Quervain syndrome is also called, gamer's thumb, radial styloid tenosynovitis, De Quervain's stenosing tenosynovitis.