By Chris Faubel, MD —
The importance of recognizing the lumbar facet joints as a common source of low back pain can not be emphasized enough.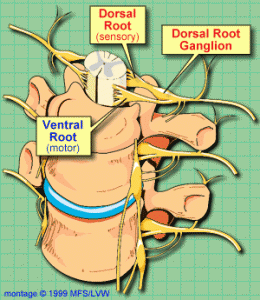 Knowing the innervation of the lumbar facet joints is critical for performing two very common and related interventional pain procedures.
Medial Branch Blocks
Radiofrequency Ablation/Neurotomy (of the medial branches) – RFA
Being able to correctly and effectively perform these two procedures requires an excellent understanding of the course of the medial branch of the
dorsal primary ramus, along with the knowledge that each facet joint has dual innervation.
I will discuss the

course

of the medial branch and the

actual procedures

themselves in separate posts.
As you can see from the image (above/right), the dorsal root and ventral root at a particular spinal level combines to form a mixed spinal nerve.  The mixed nerve (sensory and motor fibers) quickly splits into a ventral and dorsal primary ramus.  For the lumbar spine, that ventral root goes down the lower extremity to provide sensation and motor control.
The dorsal primary ramus loops posteriorly and splits into a lateral branch, intermediate branch, and a medial branch.  It is this medial branch of the dorsal primary ramus that supplies the sensation for the facet joints (zygapophyseal joints).
Dual Innervation
The exiting mixed spinal nerve gives off the eventual medial branch that supplies the facet joint at that level, and the joint immediately

below

.
Therefore, each zygapophyseal joint receives innervation from the medial branch at that level, and from the the medial branch

above

it.
Photo (right): Note the facet joints (with capsule) have nerves (yellow) from the same level, and from the level above.
Example: The L4/L5 foramen has the L4 mixed nerve exiting.  The L4 dorsal ramus gives rise to the medial branch, which then innervates the L4/L5 facet joint (same level), and thebelow L5/S1 facet.  That same L5/S1 facet also receives innervation from the L5 dorsal ramus.
Note: The L5 dorsal ramus does NOT have a medial branch, so you block or "burn" the dorsal ramus itself.
Clinical Relevance
Because each facet joint receives dual innervation from two different medial branches, in order to eliminate all sensory supply to a particular facet joint, you need to perform radiofrequency ablation (neurotomy) on two separate medial branches.
Example: In order to denervate the L5/S1 facet from the example above, you would need to do RFA on the L4 and L5 medial branches.
Typical Medial Branch Block (MBB) and Radiofrequency Ablation (RFA) Levels
In order to denervate the L4/L5 and L5/S1 facets on one side (the two lowest levels), we'll block or "burn" the L3 and L4 medial branches, and the L5 dorsal primary ramus. [3 levels]
Summary
Medial branch innervates –> Same level and one below