By Chris Faubel, MD —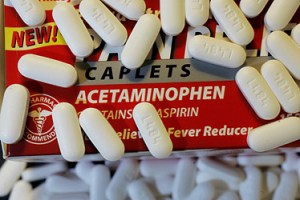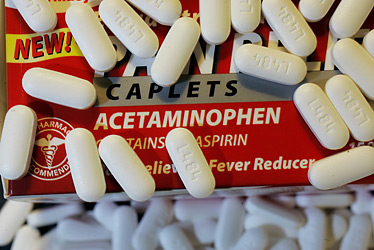 Names: acetaminophen / paracetamol (Tylenol)
Combinations with opioids

with

tramadol

=

Ultracet

with

hydrocodone

=

Norco

,

Vicodin

,

Lortab

with o

xycodone

=

Percocet
Mechanism of Action – Analgesic
Weak inhibitor of prostaglandin synthesis

centrally

[1]
Has other analgesic mechanisms at the spinal cord and cerebral cortex [4]
Uses
Drug of choice

for relieving

mild to moderate musculoskeletal pain

(especially osteoarthritis)
Acute migraine headaches:  paracetamol 1,000-mg + metoclopramide 10-mg (Reglan) is as effective as sumatriptan 100-mg [5]
Benefit over NSAIDs
Does NOT interfere with the

anti-platelet effect of aspirin

(as ibuprofen does) – no increased risk of stroke
Does NOT cause

renal or gastrointestinal problems
Synergistic Action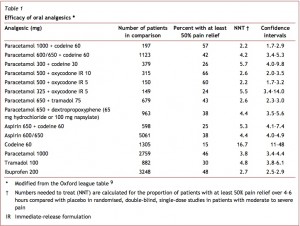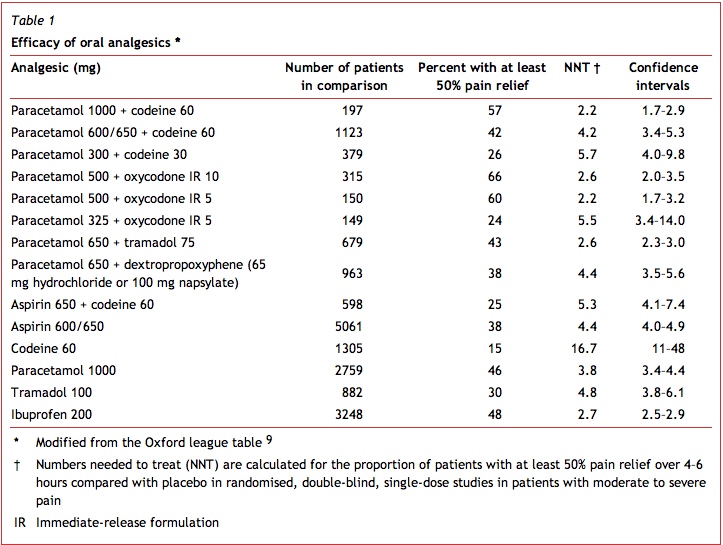 The combination or concurrent use of

acetaminophen with various opioid analgesics

(oxycodone, tramadol, etc.) has shown synergistic effects. [3] See the image below.
Brings together two different but complimentary mechanisms of analgesic action.
Benefit: Lower individual drug doses
Metabolism
Microsomal enzyme system in the

liver

(shared by other analgesics, anticonvulsants, antibiotics, and other drugs) – including the

P450

When taken in normal doses in healthy patients, all metabolites are eventually broken down to

non-toxic

end products.
If the patient  is a "rapid metabolizer", takes too much, or is a chronic alcohol abuser, the metabolite "

NAPQI

" accumulates and is

toxic to hepatocytes

.

Glutathione in the hepatocytes normally conjugates the NAPQI to make it non-toxic.

Chronic alcohol abuse

(3 drinks per day) 

induces

microsomal enzymes leading to a quicker production of NAPQI (patient's glutathione can't keep up).

Excretion = urine
Overdose
The

most common cause

of

acute liver failure

[2]

Accidental overdoses

are frequent because acetaminophen/paracetamol is

found in many OTC products for the treatment of the flu, colds, and menstrual cramps

. [for a list of products,

click here

]
Treated most commonly with

intravenous

N-acetylcysteine.

Acetylcysteine is a

glutathione precursor

.
Dosing (for older children and adults)

325 to 650mg every 4-6 hours

Do NOT exceed

4,000-mg in a 24-hour period
a single dose >1,000-mg
doses near 4,000-mg per day for > 10 days
a 2,000-mg daily limit in chronic alcohol abusers

In 2009, an FDA Advisory Panel recommended limiting the maximum daily dose to 3,000-mg, banning its combination with opioids (such as Vicodin and Percocet), and many other actions, but these are still being debated by the FDA.
REFERENCES:
1 – Graham et al.  "Mechanism of action of paracetamol".  Am J Ther. 2005 Jan-Feb;12(1):46-55.
2 – Ostapowicz et al. "Results of a prospective study of acute liver failure at 17 tertiary care centers in the United States"  Ann Intern Med. 2002 Dec 17;137(12):947-54.
3 – Gatti et al.  "Oxycodone/paracetamol: a low-dose synergic combination useful in different types of pain"  Clin Drug Investig. 2010;30 Suppl 2:3-14
4 – Loes, MW. (2005) "Chapter 10: Acetaminophen and Nonsteroidal Anti-Inflammatory Drugs"  Pain Medicine and Management: Just The Facts.  The McGraw-Hill Companies, Inc.
5 – Derry et al. "Paracetamol (acetaminophen) with or without an antiemetic for acute migraine headaches in adults"  Cochrane Database Syst Rev. 2010 Nov 10;11:CD008040.