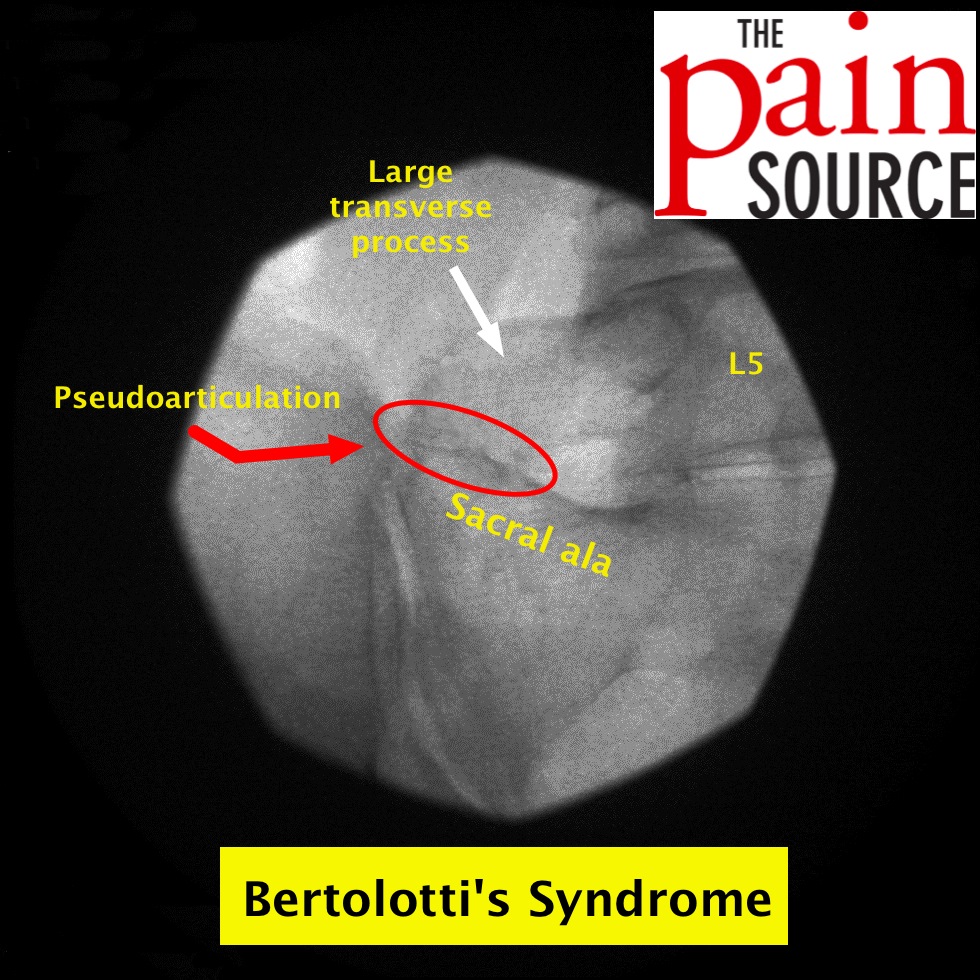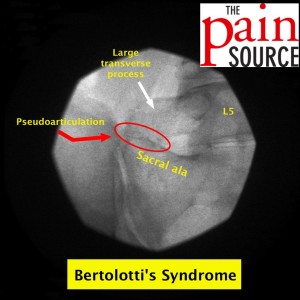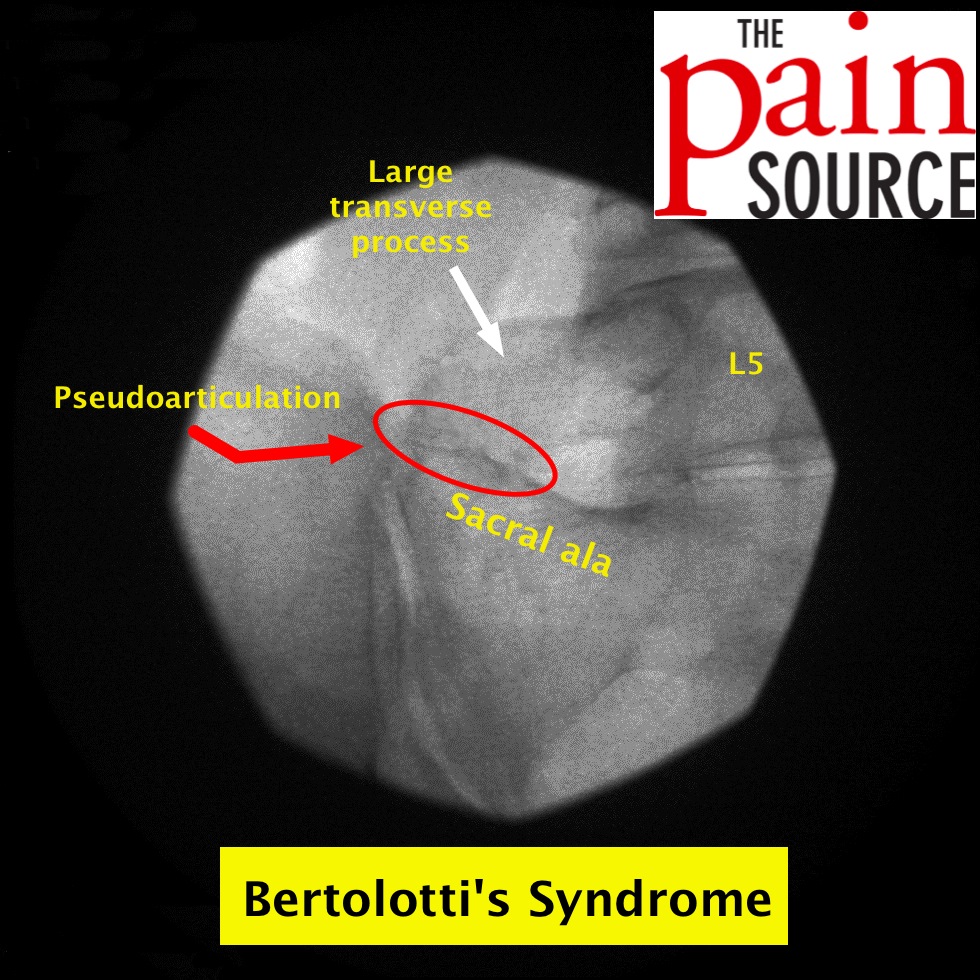 By Chris Faubel, M.D. —
Bertolotti's syndrome is an atypical cause of axial low back pain or buttock pain caused by a transitional lumbar vertebrae with a large, "spatulated" transverse process that either fuses with the sacrum (sacral ala) or ilium, or forms a pseudo-articulation at that location.  If it fuses with the sacrum, this could also be called a hemi-sacralization of the L5 vertebrae.
This is a congenital abnormality, but doesn't usually become symptomatic until a patient's 20's or 30's.
How and Where It Causes Pain
This pseudoarticulation can cause pain at the junction site –> axial low back pain
Alternatively, if the junction is fused, forces can be transferred to the sacroiliac joint (SIJ) causing pain there.
Think of getting AP x-rays of the lumbar spine and looking for Bertolotti's syndrome in a patient with a clinical presentation of sacroiliac joint disorder/pain that is recurrent and just doesn't get longterm relief from physical therapy and/or fluoroscopic intra-articular injections of the sacroiliac joint.
The fusion may also reduce movement unilaterally at the L5/S1 level, which may increase movement on the opposite side or lead to an L5/S1 or L4/5 disc herniation causing radiculopathy.
Imaging – To View Bertolotti's Syndrome
The large transverse process pseudoarthrosis with the sacrum/pelvis is best viewed with an AP lumbar x-ray, or a lumbar CT scan.  A typical sagittal and axial lumbar MRI does not show this anatomical abnormality as well; coronal MRI views would be needed to view it well.
Treatments for Bertolotti's Syndrome
Fluoroscopically-guided steroid injection and/or local anesthetic blocks

at the pseudoarticulation site

Radiofrequency ablation

(thermal) along the articulation
Surgical excision of the large transverse process
References
Surgical excision of Bertolotti's large transverse process
Bertolotti's syndrome. A cause of back pain in young people.
Bertolotti's syndrome: a case report
Radiofrequency sensory ablation as a treatment for symptomatic unilateral lumbosacral junction pseudarticulation (Bertolotti's syndrome): a case report
Lumbosacral transitional vertebra causing Bertolotti's syndrome: a case report and review of the literature
Bertolotti Syndrome as a Potential Cause of Low Back Pain in Golfers
Note:  Many of the images are courtesy Dr. Rebeca Monreal who practices interventional spine management in Salem, Oregon at Salem Pain & Spine Specialists