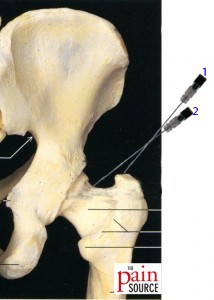 Technique: Lateral approach with fluoroscopic guidance.  Note: I GREATLY prefer the A-P approach.  Check it out HERE.
Outpatient procedure
Patient position: Prone
Needle used: a 22-gauge 3.5″ quincke spinal needle is sufficient for most patients, although a 5″ may be needed for larger patients
Steps:

Prep and drape
Use the fluoroscope to find the skin over the greater trochanter
Make skin wheal and deeper anesthesia with local anesthetic (1% lidocaine) with 27- or 25-gauge needle at a spot 4-6cm cephalad to the greater trochanter
With 3.5″ 22-gauge needle, enter the skin through the skin wheal and go towards the top of the greater trochanter (

#1

in the photo)

This will tell you you're in the correct coronal plane

Redirect

the needle and aim towards the femoral head/neck junction (#2in the photo)

Do NOT try to inject between the femoral head and the acetabulum

Inject contrast to confirm intraarticular flow

You should be looking for the circular pattern noted in the fluoroscopic image below

Inject the corticosteroid or steroid/local anesthetic injectate
Remove needle.  Place band-aid.  Patient can go home immediately, with instructions to take it easy with that hip for 3-5 days.