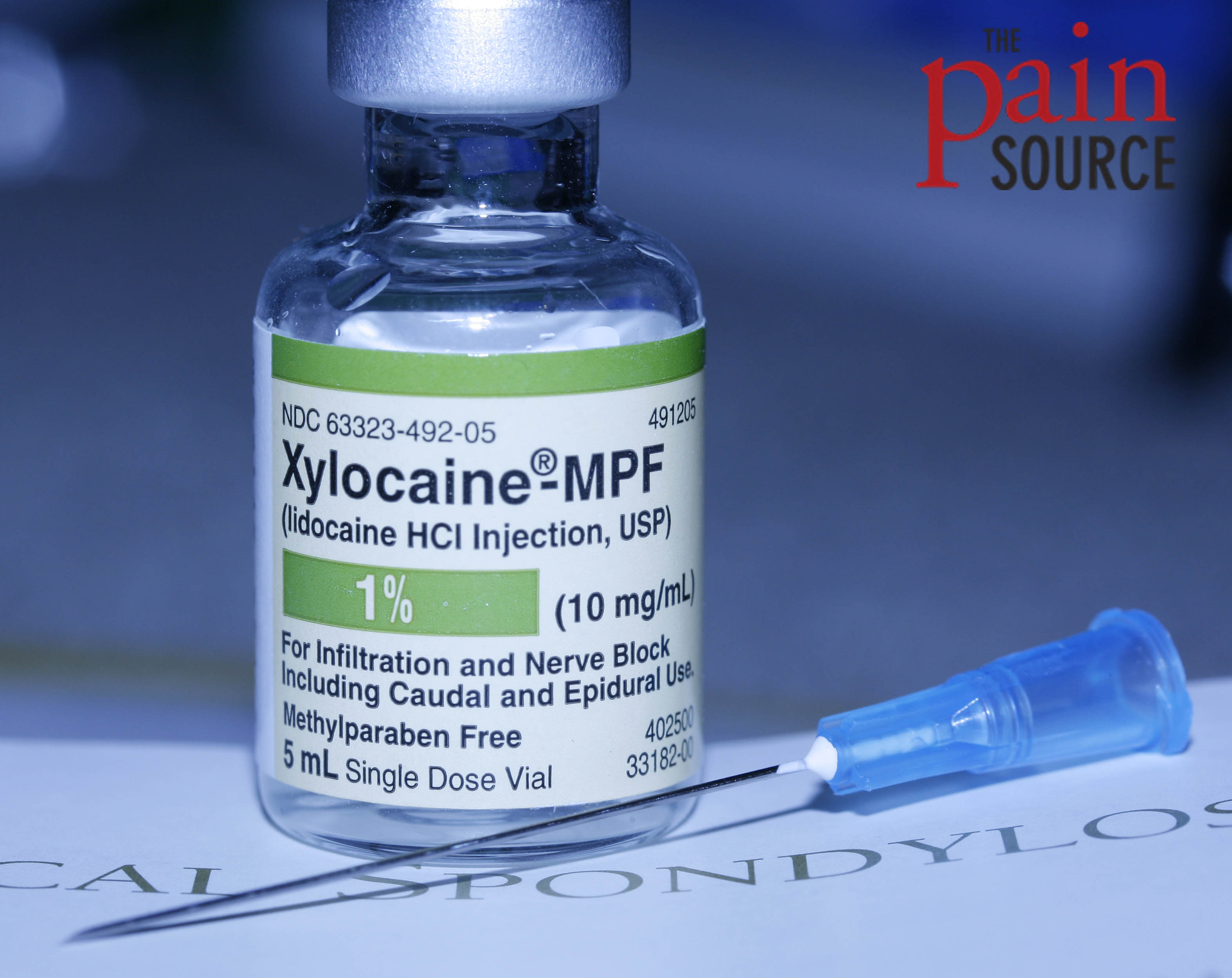 By Chris Faubel, MD —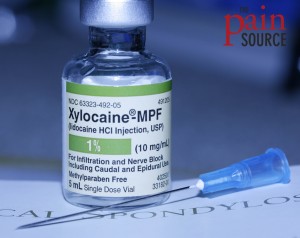 Local anesthetics (anaesthetics) are the most frequently used medication in pain medicine.  From numbing up the skin prior to inserting larger needles, to anesthetizing joints and deeper nerves, these drugs are essential for both therapeutic and diagnostic purposes in our daily practice.
MOST COMMONLY USED LOCAL ANESTHETICS

Lidocaine – Xylocaine (1%, 2%)
Bupivacaine – Marcaine (0.25%, 0.5%, 0.75%)
Ropivacaine – Naropin (0.2%, 0.5%, 0.75%, 1%)
MECHANISM OF ACTION
Block voltage-gated

sodium channels

, thus blocking signal conduction —  "Membrane Stabilizers"

Remember

: A large influx of sodium ions through sodium channels is needed to depolarize a nerve cell membrane and allow for saltatory conduction of the action potential up/down the neuron
WORKS BEST ON SMALL-DIAMETER NEURONS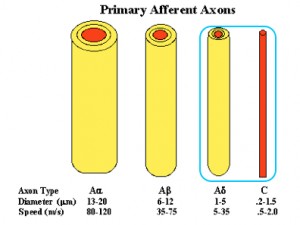 Aα (alpha) – proprioception (muscle sense)
Aβ (beta) – touch, pressure, vibration
Aδ (delta) –

fast pain

, cold
C –

slow pain

, warmth and itch
ESTERS vs AMIDES

Esters (cocaine, procaine / novocaine)

Risk of

severe allergic reactions

secondary to the breakdown product

paraaminobenzoic acid

(PABA)

Amides (

lidocaine, bupivacaine, ropivacaine

)  [Hint:  the ones with two

I

's are am

I

des]

Much less common allergic reactions
ADDING EPINEPHRINE

Epinephrine is added to local anaesthetics (LAs) to

decrease vascular absorption

, allowing for

longer anesthetic effect

About 50% prolonged duration of action
BUFFERING WITH SODIUM BICARBONATE

The burning sensation of lidocaine being injected into the patient's skin may quite possibly be the most painful aspect of the injection process.
Lidocaine is more

acidic

than human tissue, and this is believed to be the reason for the burning sensation.
Bicarbonate neutralizes the acidic lidocaine

–>

Less pain

,

Faster onset



Directions

Add 1-ml of 8.4% sodium bicarbonate to a 10ml bottle of lidocaine (with or without epinephrine) – 10:1 ratio
Note: the buffered lidocaine

decreases the effectiveness of the epinephrine

. But since we rarely use epinephrine with our injections in pain medicine, this is less relevant to us.

The buffered lidocaine has also been shown to have even more antibacterial activity
OTHER WAYS TO TAKE THE STING OUT OF INJECTING LOCAL ANESTHETICS

Warming the lidocaine and

injecting it slowly

Body temperature lidocaine produces less pain than room temperature

One study found that the rate of administration of lidocaine had a greater impact on the perceived pain of lidocaine infiltration than did buffering.
COMPARISON OF LOCAL ANESTHETICS (click the chart to the right to enlarge)

Quickest

onset

=

Lidocaine

Least ionized

, therefore quickest to pass through tissue and anesthetize the neurons

Longest

duration

=

Bupivacaine

(3-6 hours)

Because the most

protein-bound

and

fat soluble

Ropivacaine is in-between lidocaine and bupivacaine with regards to onset and duration — though it costs MUCH more

CONTRAINDICATIONS
True anaphylactic allergy

with AMIDES is

extremely rare

Local sepsis and coagulopathy are

relative

contraindications

Intraarticular hemorrhage risk is

very

low
MAXIMUM SAFE DOSES

The maximum doses are NOT evidence-based
The levels are meant to prevent a toxic dose
Lidocaine

30ml of 1% or 15ml of 2% (based on 3mg per kg of body weight)
Can increase this if using epinephrine

Bupivacaine

25ml of 0.5% or 50ml of 0.25%
As this all depends on vascular absorption, these numbers will be higher if injected into areas with less vascular uptake (subcutaneously, brachial plexus, epidural)
CENTRAL NERVOUS SYSTEM (CNS) and CARDIAC TOXICITY

CNS is more sensitive to the effects of LAs, so it is the first to demonstrate an intravascular injection
CNS toxicity signs:

Tingling tongue/lips, lightheadedness, shivering, tinnitus, slurred speech, muscle twitching, loss of consciousness, coma, respiratory arrest
MUCH more sensitive to

bupivacaine

Cardiac toxicity signs:

Myocardial depression, arrhythmias, ventricular arrest

Bupivacaine

is much more cardiotoxic

Treating CNS and cardiac toxicities

IV administered

lipid emulsion

(LE) has been shown effective in local anesthetic toxicity
SKELETAL MUSCLE TOXICITY
Seen in

experimental

settings

Bupivacaine

seems to induce myocyte apoptosis
Only a few case reports exist, and this is with large amounts such as with continuous peripheral blockade or infiltration of a wound.

Very rare in the

clinical

setting
ARTICULAR CARTILAGE / CHONDROCYTE TOXICITY

At high doses (30-60ml), bupivacaine and

all epinephrine-containing LA formulations

demonstrate increased chondrocyte apoptosis

Note: with doses in pain medicine being typically 3-10 ml, these chondrocytic doses aren't relevant to our practices

Dilutional effects of joint fluid and active absorption

Intraarticular injections of LAs are

un

likely to expose the chondrocytes to the concentrations used for in vitro experiments, because of the dilutional effect of the joint fluid and the active systemic absorption
CLOSING THOUGHTS