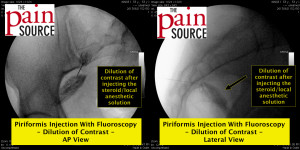 By Chris Faubel, M.D. –
To learn about Piriformis Syndrome, follow this link.
A piriformis muscle injection should be performed with fluoroscopic (x-ray) or ultrasound needle guidance in order to confirm proper placement of the needle as the muscle lies deep to the buttock adipose tissue and gluteus maximus muscle and can not be done safely or effetively "blindly".
ICD-9 code:
355.9

– Piriformis syndrome (mononeuritis)
CPT codes:

 
20552

"Trigger point injections, 1-2 muscles"
77002 "Fluoroscopic guidance, non-spinal"
Remember to bill for the injectables (contrast, steroid) if done in an office procedure room
Solution (injectable):
Corticosteroids:

  40-mg of Depo-Medrol or Kenalog
Local anesthetics:  3-5-ml of local anesthetic (lidocaine or bupivacaine)
Note:  Can also be done with botulinum toxin (Botox, Myobloc, Dysport) for longer relief than steroid and local anesthetic.
Position:
Fluoroscopy starting position: 
An A-P view is adjusted so that the inferior most part of the sacroiliac joint is in the middle of the screen.
Technique (Piriformis Muscle Injection with Fluoroscopic Guidance):
Use an 18-gauge 1.5″ needle tip is placed on the cleaned skin over the inferior SI joint.
Create a skin wheal and anesthetize the deeper subcutaneous skin with 1% lidocaine (buffered with sodium bicarbonate) and a 27-gauge 1.25-inch needle.
A 22-gauge 3.5″ or 5″ (depending on patient size) Quincke needle is used to advance down and contact the very tip of the inferior sacroiliac joint. Make note of the approximate needle depth.
The needle is then withdrawn and redirected to a final TARGET SITE 1-cm inferior, 1-cm lateral, and 1-cm deeper than the SI joint.
Note:  I frequently notice a change in resistance (more firm) as the needle enters the piriformis muscle for some reason.
Important:  NEVER inject if the patient is feeling sharp pain shooting down their leg as the needle tip may be inside the sciatic nerve.  Move the needle and retry.
TARGET SITE:  1-cm inferior, 1-cm lateral, 1-cm deeper [from the inferior SI joint]
Contrast Flow:
AP view:  Contrast should flow in a diagonal pattern from cephalad to caudad as it goes toward the femoral attachment site of the piriformis muscle.
Lateral view:  See the side-by-side pic below