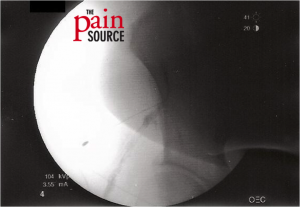 By Chris Faubel, MD

The lateral femoral cutaneous nerve (LFCN) is a purely sensory nerve that supplies the skin over the anterolateral thigh.  Pathology of this nerve, with resultant paresthesias in its distribution, is called Meralgia Paresthetica. (click for more anatomical and diagnostic information)
Fluoroscopic procedure technique with Stimuplex guidance:

Indications
Meralgia paresthetica (lateral femoral cutaneous nerve of thigh syndrome)

ICD-9 code:

355.1

"meralgia paresthetica"
ICD-10 code:

G57.1

"meralgia paresthetica" (lateral cutaneous nerve of thigh syndrome)
CPT code: 64450 "Injection, anesthetic agent; other peripheral nerve or branch"
Should NOT use 64447, which is for injection of the femoral nerve, not the lateral femoral cutaneous nerve.
Materials Needed
C-arm fluoroscopy
Pen – clicking type
Gloves – sterile
Chloraprep
Band-aid
10-cm Stimuplex needle (peripheral nerve stimulator needle)
10-cm syringe
Injectate

1-ml of 40mg/ml Depo-Medrol or Kenalog
6-ml of 1% lidocaine

For skin numbing: 25-gauge 1.5″ needle with 1-ml syringe filled with 1% lidocaine
Technique / Procedure Steps
Always start with

informed consent

from the patient, and then a

time-out

to verify correct patient and injection site.
Mark the injection site with the pen tip in order to leave an impression in the skin (2-cm medial and 2-cm inferior to the ASIS)
Clean the skin thoroughly with

chloroprep

.
Patient position:

supine

Fluoroscopy:

P-A

(posterior to anterior)  fluoroscopic view is used to visualize the anatomy just medial to the ipsilateral ASIS (anterior superior iliac spine)
With the Stimuplex needle, penetrates the skin and advanced until the needle reads a sensory response of about 0.5MA (which means you're close to the LFCN)
Aspirate to make sure you're not in any vessel.
After negative aspiration, inject the full contents of the injectate syringe (injectate should flow easily).
Withdraw the needle and apply band-aid.
For the image shown above, 3-ml of contrast was then injected, which demonstrated an impressive neurogram (the contrast spread is in the distribution of the lateral femoral cutaneous nerve).
Because the anatomical location of the lateral femoral cutaneous nerve is variable, and many patients are obese, use of a nerve stimulator is important to localize the nerve.
Note: This injection can also be performed with ultrasound guidance as well, which has as an advance, no radiation and the ability to perform in even small rooms.